Unholyath (Ukraine) 17/04/2013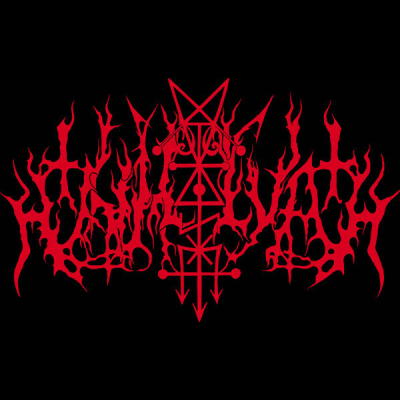 Some time ago The Ritual Productions asked me to write a review on the new album of Unholyath from Ukraine, a band completely unknown to me. So Antidogma immediately made me a fan so it came out naturally to ask them for an interview. I talked with Amertat, the guitarist of the band and a really interesting man. Bellow you can read his answers about everything concerning Unholyath and more.
1.
Hails Amertat, thanks for the interview. I read the small biography in your site but do you want to tell me more about the founding members (how did you meet?), the releases, how did you come up with the name and what exactly does it mean?
Amertat:
Foundation of the band was established in 2005 by the current vocalist Mefisth and ex-guitarist Despoth. I joined a bit later, in 2006. At that time we play under name Blizzard. Over time Despoth has lost interest to the band and also was rotten in terms of ideology. His perception of Black Metal was superficial and not sincere. We kicked him out and decided to change the name, that would fully throw off the past. The title not makes much sense. This is just a derivative word of the Unholy. Then there were many people who tried to be part of Unholyath, but they were only a temporary burden. For today Unholyath - is two persons, me and Mefisth, my ideological ally and brother! More recently, we found a drummer - KIM. This man fully meets our requirements and at any time ready to assist both with the record, and with live performances.
2.
I want to tell you that "Antidogma" is a great album and it has been a great surprise to me as I didn't know Unholyath. What do you think about the album and do you want to give me some information about composing it, recording it etc?
Amertat:
Thanks for your feedback! In fact it is our second album, since the first release was limited to only 200 copies on CD-R, unfortunately, it was unnoticed. With this release, we are quite satisfied. The album has been associated with a bunch of problems. It was started in 2011. However, when we went into the studio, it turned out that our old drummer just cannot cope and recordings were delayed. Then there were the searches of the suitable drummer. In the end, KIM helped us with drums. Also when it's come time to write the bass, the bass guitar player just disappeared, lost all interest to the band. Album was finally recorded and mixed only in summer of 2012. I hate people who can easily change their attitudes and beliefs, so do not think that in the future we will be able to take someone to the Unholyath. We require not only the ability to pull the strings correctly or kick the drums. Indeed is very important, but much more important - the ideology.
3.
Your music is hateful, sometimes melancholic and violent. How do you get inspired to compose? Do you want to describe to me the process of composing? Is it an one man's work or all the members of the band take place in composing the tracks?
Amertat:
All music written by me, but some lyrics was written by Mefisth. Usually comes an idea and we are discussing it together. Gradually the idea materializes into a song. I making the arrangements, then Mefisth and Kim get the rough material and start working on vocals and drums. Sometimes, the primary component is lyrics, and we making music for that. Mocking of religious dogma, blasphemy, hatred for these loathsome worms - are our inspiration!
4.
In "Antidogma", you had two cover tracks. The weird thing is that they are inside the album not as bonus tracks or something like that, but as a part of the album. Tell me more about the cover tracks.
Amertat:
Both of these tracks we are played live. In due time, we were impressed by their black ritual energy of "Into the burning pit of hell" album. This ban for a long time has become a symbol of satanic black metal ritual! We recorded this track for a compilation, and we liked how it perfectly fits into our concepts of the album and sound. With the Carpathian forest situation is different. This track has special energy and in addition it is one of my favorite bands. Of course, after I saw them live at the Carpathian Alliance fest, which passed last summer in the Carpathian Mountains, I was very disappointed. I saw only of a handful of drunks who imagines himself a rock 'n' roll stars. Total Bullshit.
5.
I guess that your lyrics are hateful and misanthropic but can you tell me about what topics do you write?
Amertat:
Yes, you're absolutely right. Most of our lyrics is just wicked and sarcastic view from the outside, directed against man, against stupid herd calling himself the civilization and society, against religions in all its forms, but even more goes to Christianity and I think you know why. We point out how a man is weak and pathetic. Not a single drop of compassion, not a drop of pity! But in our lyrics you will not find calls for or belief. We assume no responsibility of "shepherds" and "prophets". We do not suggest an alternative. We are just stating a fact: The man - nothing!
6.
I think that I noticed some similarities to your music with Nocturnal Amentia and I saw that you mention them inside the cd. Is there a bound between the two bands?
Amertat:
Yes, these peoples are our ideological allies. We know each other for a long time and are very closely communicate. In addition they are our countrymen. With Nocturnal Amentia we plays a lot of concerts, drank a lot, there is something to remember. This is one of the few bands in Ukraine that I can proudly call our black scene. But about the music it's a satanic black metal. The really dedicated people of this ideology!
7.
How the comments of the press and fans were for "Antidogma"? Are you satisfied with the reaction of the Black Metal community to it?
Amertat:
Well, I can say that the reaction is more than positive. People, whose opinion is important to us like our stuff! Although there are also negative reviews (mostly on domestic forums and blogs). But we especially not were watching to the public opinion, because we just do not care for him. Especially the opinion in social networks and other shit like that. What about the press, I cannot say. I have seen only a couple of reviews, including yours, and this is second interview (the first was in the previous week for the Spanish ORFISMO'ZINE).
8.
This is your first release with The Ritual Productions. Are you satisfied by their support and promotion to the band?
Amertat:
Yes, more than anything. Jasper was very competent. All issues can be resolved easily and quickly. We will not be scared by the fact that the label is not well known because a person's age and his place in the underground are more important. For their part, Jasper did everything at the highest level. I contacted people from Italy, Spain, the U.S., Australia and they are wondered how to get the disc. Many letters was from labels to offer trades. We are quite satisfied with the work of The Ritual prod.
9.
I know that is quite early but have you started composing material for a future release? Have you planed any new release in the near future?
Amertat:
Right now we are working on new material, writing new songs. But for now it's only a rough material. In general, work is well underway. In the most nearest plans is a split-album with the Russian Black Metal band Burial Mist.
10.
Have you planed any live gigs for the promotion of the new album and where?
Amertat:
Yes, we were invited to play gig at the end of spring in Stavropol (Russia). Now we have been actively rehearsing.
11.
In my opinion the Ukrainian Black Metal scene has many talented bands both old and new. What is your opinion about the Ukrainian scene? Are you in contact, cooperation or support with other bands from there? Is there any underground new or old band that you would like to suggest to me?
Amertat:
In the Ukrainian underground, there are groups that we are closely contacting and respect. First of all I would like to note bands like Nocturnal Amentia, Nahemoth, Kaosophia, Underdark, Deathincarnation. These bands I bravely recommend to you! True representatives of the black underground. They do not chase popularity and fees. They do not advertise themselves performing at fashionable European festivals. The average metalhead familiar with the Ukrainian scene by such groups as Nokturnal Mortum, Khors, Lucifugum, Hate forest. Hate forest are worthy of respect, but Nokturnal Mortum, Khors not have any relation to black metal now, despite the fact that they were at the origins of the genre. There is nothing true, black. They have no breath of Hell! This is the standard boring pagan. Also Lucifugum is like a decomposed corpse of the great demon that once was, but it's only a crap.
12.
The cover of "Antidogma" shows your antichristian views. What do you think about religion? Are you involved with Satanism? How do you experience it?
Amertat:
Let me answer a few repetitions, as previous week already answered a similar question. There is a popular slogan: «Black metal unreal without Satan» but only a few can recognize and claim that they are Satanists. Hundreds of musicians who play what they believe black and evil music only grab attributes, external trinkets, such as pentagrams, inverted crucifixes, and silly phrases. Thus, they are only sick fetishists, not that different from the "corpse-worshippers" and other religious garbage. Religion - it's rubbish! Accept the form, but not to understand or be afraid to understand the fact - it is not Satanism. I know a few people who can name Satanists, moreover practitioners. But they do not scream about it. Satanism is not a mass phenomenon - this manifestation as individuality by means of the perception of a new experience, often is contrary to accepted standards of morality and culture. Hence, for the majority of the risk in it! For me personally, Satanism - it is not certain the antipode of god worship. First of all it is a chaos and the experience of its study, the wisdom of the ancient teachings of Babylon (Sumerian teachings), Egypt, and Asia. It's a dark path, which is very difficult to understand. And most importantly - it is a struggle against the light! At all in this regard, I am very impressed with the Ford's works, publications of MLO. But my philosophy of life, which determines the behavior, my attitude to reality - is rationalism. It does not require proof.
13.
What kind of music do you listen in your spare time?
Amertat:
Our preferences - is metal. Metal in all of its manifestations. Old school thrash metal, death metal, heavy. But, of course, black metal in favorites. Mefisth generally fanaticaly refers to music and every month he spends a lot of money for buying the CDs. He has probably one thousand CDs, no less! For example, I can with pleasure listen to instrumental music and old hard rock. The last things in my player: Zlo, Inhuman Disease, Mgla, Inferno, Thunderbolt, The Best Mylene Farmer)))
14.
Do you want to sum up your near future plans and add anything for a conclusion?
Amertat:
We will go the chosen path as long as our black hearts filled with hate to worms! So, there is still a lot of hatred, malice and black poison under the banner Unholyath!